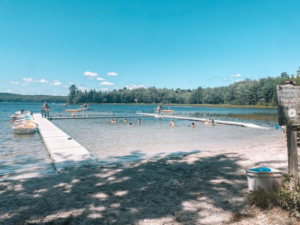 Nichols Program is for campers ages 7-12.
The Camp Day is: 8:45 a.m. – 3:45 p.m.
Activities
Swim Lessons
Archery
Canoeing
Sailing
Arts & Crafts
Field Games
Nature Exploration
Theater/Drama/Music
**Please note that activities can be weather dependent, and may vary accordingly.
Our Nichols program is the largest group we have! With approximately 50-65 children, our day is so eventful! In 2022, one of the most favorable activities was boating, we wonder activities will be the favorite in 2023, maybe archery? Theater? Swim? We will see!
Sample Schedule:
8:45-9:00 a.m.            Arrival
9:00-9:15 a.m.            Camp Family Time
9:15-9:30 a.m.            Flag Raising & Announcements
9:30-10:30 a.m.         Activity I/Swim Lesson
10:30-11:30 a.m.       Activity II/Swim Lesson
11:30-12:00 p.m.       Lunch
12:00-12:30 p.m.       Camp Family Time/Chill Zone
12:30-1:30 p.m.         Activity III/Free Swim
1:30-3:00 p.m.           Activity IV
3:00-3:45 p.m.           Camp Family Time/Flag Lowering/Field Games until Pick-up Time

2023 Session Dates
~Coming soon~
Tuition:
~Coming soon~
*****Hancock County Residents receive discounted tuition******