Nichols Day Camp is a program of Blue Hill Society for Aid to Children, a 501(c)(3) non-profit, originally incorporated in 1963.
Our Mission: To instill in our peninsula area youth a lifelong passion for outdoor recreational and educational experiences.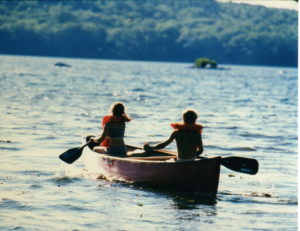 We fulfill our mission by providing area youth opportunities to experience our woods, wind, water and Maine's natural beauty to gain a variety of life skills which promote confidence and self-esteem.
What we do!
We provide programming to three age groups: Scamp Camp (ages 5-6), Nichols (ages 7-12), Adventure (ages 13-14). We also offer a Counselor-in-Training program for those interested in being Counselors for ages 14 1/2 and up!
Our programs emphasize outdoor recreation and the importance of gaining confidence and communication skills.  A typical day at Nichols could see many things; sailing, archery, field games, theater, or a hike. Other days could be spent learning how to garden, reading about Maine Flora and Fauna, or enjoying lunch in the sun. Everyday is different, and everyday is an opportunity to learn something new.
History
and

Background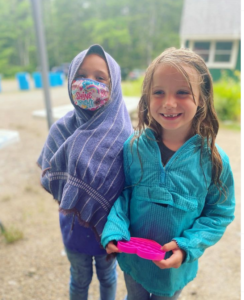 Mr. Francis T. Nichols founded Blue Hill Society for Aid to Children Inc. (BHSAC) in 1963. It is a non-profit community organization which administers outdoor programs for school age children in the peninsula area. Mr. Nichols believed that all area children should learn to swim and appreciate the out-of-doors, especially in a simple, rustic camp setting. He also believed no child should be denied these opportunities for financial reasons. In 1979, BHSAC acquired a parcel of waterfront property on Walker Pond from Frank and Belva Fowler. Today this remains our beautiful camp site.
During his lifetime Mr. Nichols was able to sustain his vision through his generosity along with a group of highly committed trustees and volunteers which organized and implemented programming. While we still rely on our community for support by volunteering and offering monetary donations, our Camp Director is now responsible for daily operations of camp. Throughout a typical summer, 300 children from Maine to California and countries overseas participate in our four age-based programs.
Our off-season office is located in Blue Hill at the Main Street/Water Street intersection, next to the municipal parking lot, on the second floor, over-looking Blue Hill Harbor.
Contact Us: 
For questions regarding registration, Campdoc, and billing, contact Deanna via email at nicholsdaycampsoffice@gmail.com
Questions for the Director? Contact Bill via email at ndc.campdirector@gmail.com
As always, we are happy to assist you via phone for any inquiry you may have! You can reach us at (207) 359 -4900.