We are a 501 (c) (3) non-profit,  originally incorporated in 1963 as Blue Hill Society for Aid to Children, Inc. In order to let the public know what our purpose is, we now do business as Nichols Day Camp, owned and operated by Blue Hill Society for Aid to Children, Inc.
Our Mission: To instill in our peninsula area youth a lifelong passion for outdoor recreational and educational experiences.
Our Purpose: To provide opportunities for area youth to experience our local woods, wind and water through a variety of life skills. These opportunities will use the natural resources of Maine's beauty to promote confidence and self-esteem.
History and Background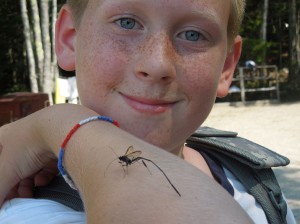 Mr. Francis T. Nichols founded Blue Hill Society for Aid to Children Inc. (BHSAC) in 1963 as a non profit community organization to administer outdoor programs for school age children in the peninsula area. He believed that all area children should learn to swim and learn to appreciate the out-of-doors, especially in a simple, rustic camp setting. He also believed no child should be denied these opportunities for financial reasons. During his lifetime his generosity sustained this vision. In 1979, Frank and Belva Fowler sold some of their waterfront property to establish a permanent camp site on Walker Pond.
Today BHSAC, doing business as Nichols Day Camp, operates one day camp with 4 age based programs on that site. Throughout a typical summer, 300 children from right here in Maine to as far away as California and countries overseas, take part in these programs.
When Nichols Day Camp was founded, the organization was originally run by a group of trustees who volunteered their time to oversee the running of all the camp programs.  Now a Summer Camp Director is responsible for the overall operation of the camps. An off season office is located in Blue Hill on Water Street, across from the Harbor House. During the camp season, Nichols Day Camp makes wonderful use of our on-site camp office which was built in 2008.
We welcome you to see for yourself how wonderful Nichols Day Camp is.